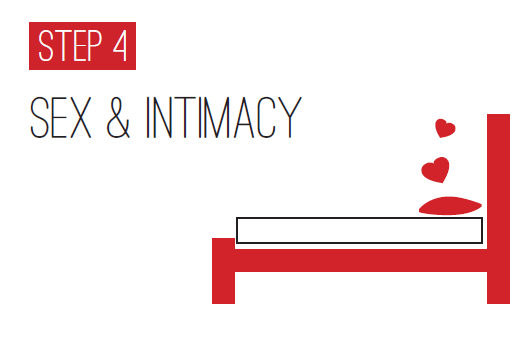 The couple may be in pain, but that will not prevent unmet needs from being satisfied.
If unmet sexual needs are left unsatisfied, it could mean continued infidelity.
It is the role of the Infidelity Recovery Coach to help the couple re-engage in their sex life by providing education and appropriate couple exercises.
Most couples need education and training to learn what is "healthy and normal" in the bedroom.
---
Sex & Friendship in a relationship are as necessary as Air & Water. Without these two elements, the relationship is a ticking time bomb. Not all relationships will be ready for sex, but they need to introduce intimacy immediately.
To understand the motive to engage in sexual activity, one must have a basic understanding of the Sexual Response Cycle. Read More here.
In the IRI 7 Step Course, Sex & Intimacy has its own Affair Recovery Step, because Sex & Intimacy is a major component of what keeps a relationship alive & monogamous.
Relationships that do not have a healthy sex life WILL BE IN RISK OF FUTURE INFIDELITY.
Especially for men, sex is normally in the top 3 emotional needs.
Common Sexual Rebooting Exercises in Step 4:
In the 7 Step Infidelity Recovery Program, the Certified Infidelity Recovery Specialist and the couple will work through some of the following tasks – taking into considering the affair type:
The Intimacy Pyramid
Intimacy Monologues
Intimacy Interview
Sexual Touch
Non-Sexual Touch
Foreplay Mapping
Dating
Bedroom Environment
Re-establishing a sex life
How can I ask my partner about his/her sexual desires?
It is an amazing fact, that most people do not feel comfortable talking about their sexual desires with their spouse. Yet we know "sex" is everywhere in our daily lives. Many people form an opinion of their spouse, where they believe their spouse will not feel comfortable with dirty talk. Others feel their sexual thoughts and desires are "too dirty" to be expressed at all!
Here is where the secrets start. The need for sexual conversation exists, yet their is no perceive outlet. So the frustrated spouse leans into the exciting, unknown, and taboo area, of expressing their needs and desires to another person.
Imagine if a couple could share sexual thoughts with each other!
In the 7-Step Infidelity Recovery Program, a couple will look at the sexual health of their relationship – past and present. Here is an activity you can try at home to begin Intimate Conversation, and to understand each others sexual needs.
Continue to Step 5